A General Contractors Association of Hawaii signature event, the Installation Ceremony is a time to thank the GCA Board of Directors, welcome in the new Board Officers and Members, and reflect on the state of the Industry and Association.
2023 • 2022
2023 Installation Ceremony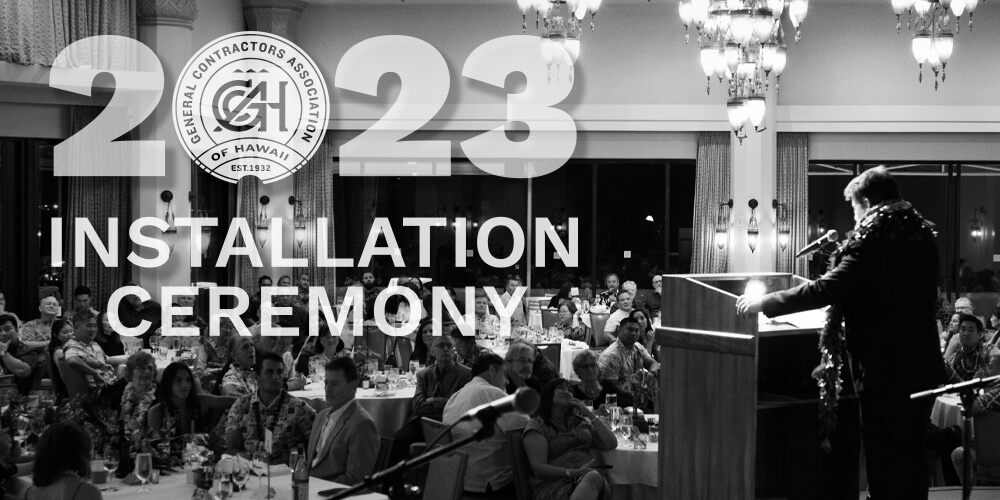 The GCA's annual Installation Ceremony was held on January 28, 2023 at The Royal Hawaiian, A Luxury Collection Resort, Waikiki.
Along with the new slate of GCA Officers and Board members being introduced, the president title officially changed hands from Dale Sakamoto Yoneda of S & M Sakamoto, Inc. to Steve Baginski of Kaikor Construction Group.
For the full 2023 list of Board Officers and Directors, click here.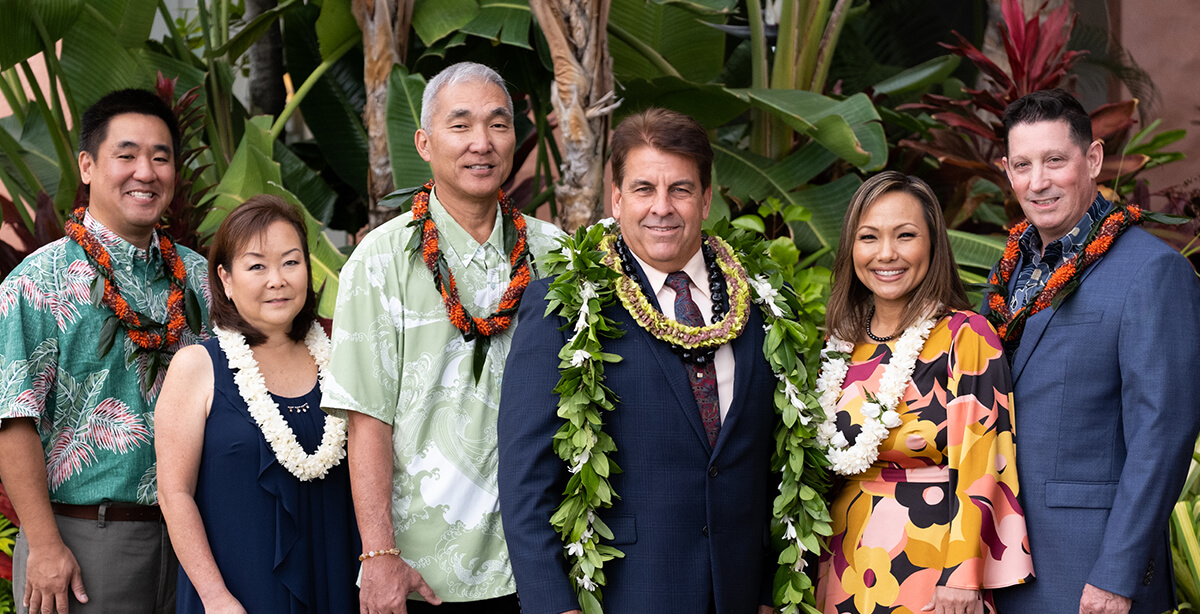 (L to R): Michael Young (1st Vice President), Dale Sakamoto Yoneda (Immediate Past President), Russell Inouye (2nd Vice President), Steve Baginski (President), Cheryl Walthall (Executive Director), and Mike Venezia (Treasurer)
The GCA also recognized the contributions of two committees: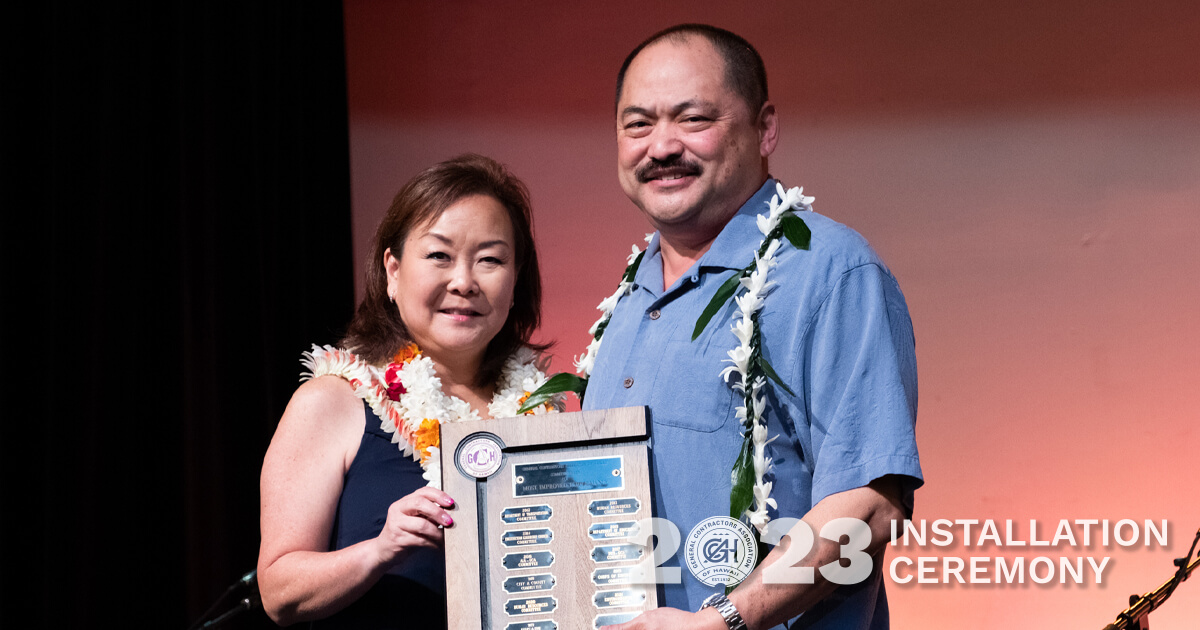 (L to R): 2022 GCA President Dale Sakamoto Yoneda & Legislative Committee Chair Greg Ichimura
Most Improved Committee: The GCA Legislative Committee, which serves as the GCA's advocacy voice at all levels of government, reviews and makes recommendations on laws and regulations that affect the construction industry. Gregg Ichimura of Koga Engineering and Construction chairs this committee, which was mentored by Lance Wilhelm of the Wilhelm Group.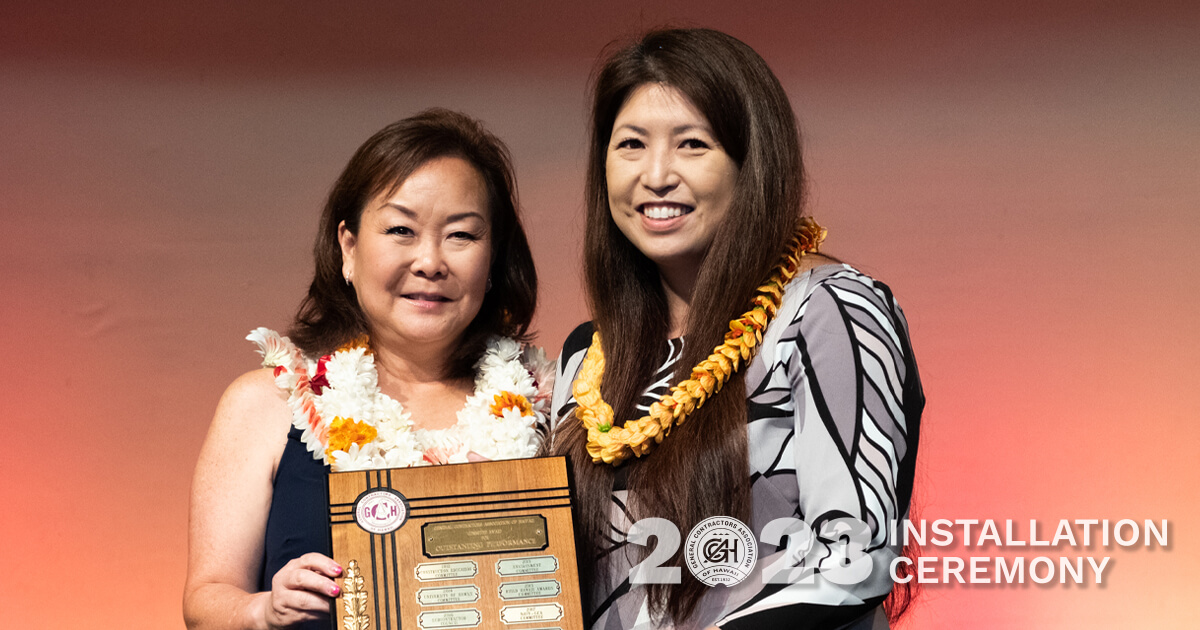 (L to R): 2022 GCA President Dale Sakamoto Yoneda & Workforce Development Committee Chair Cori Gono
Outstanding Committee Award: The GCA Workforce Development Committee was created when the Construction Education Committee was divided into two different committees in 2022. The Workforce Development Committee plans and manages GCA's workforce development initiatives to support the next generation of construction professionals. Cori Gono of Civil-Mechanical Contractor is the committee chair and James Abeshima of Hawaiian Dredging Construction Company serves as the committee's mentor.
To close out the night, guests were treated to the musical talents of multiple Na Hoku Hanohano award winner, Josh Tatofi!