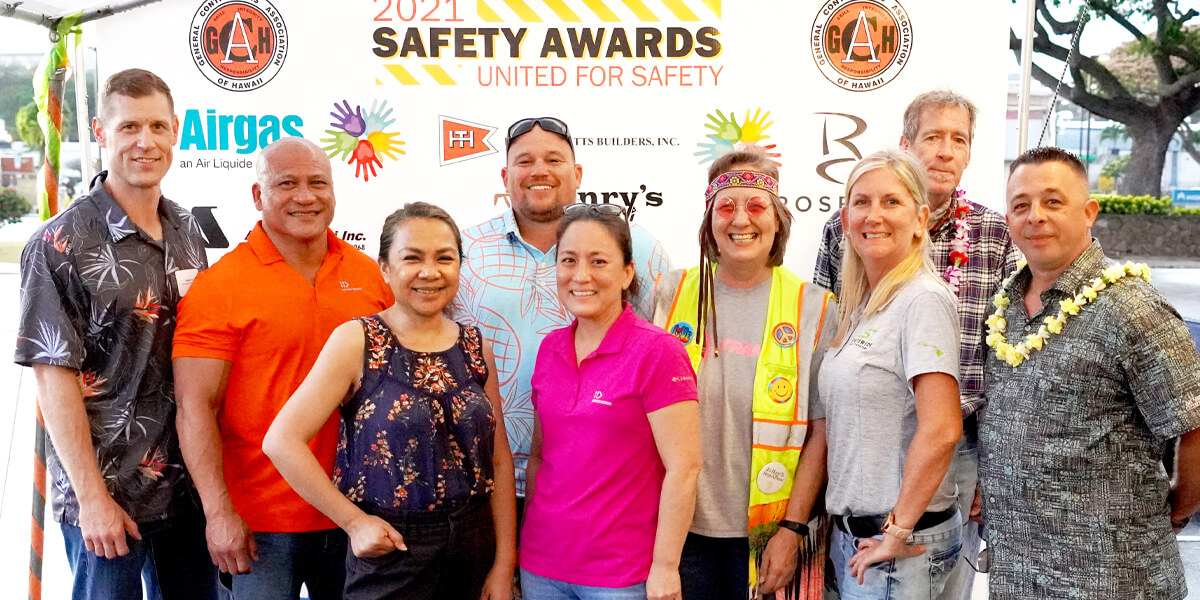 The Safety Committee from the 2021 Safety Awards event.
Our committees are always looking at expanding its membership! If you are a GCA member and interested in serving on one or more of the committees below please contact Gladys Hagemann at info@gcahawaii.org. If you would like to join the GCA of Hawaii, contact us at info@gcahawaii.org.
The purpose of the AIA-GCA-ACECH Committee is to create a better understanding of each other's roles and concerns, to identify recurring conflicts between Architects and contractors during the project, and to offer resolutions to the identified conflicts.
Board of Water Supply (BWS)
The Committee will be working on establishing an open line of communication between GCA and the Board of Water Supply. The Committee will focus on procurement and construction issues that affect our industry.
The Build Hawaii Committee organizes the annual Build Hawaii awards program, encourages entrant and sponsor participation, and produces the event.
For more on the Build Hawaii Awards event, click here.
The C & C Committee provides a forum for the Contractors and the City to present concerns, exchange ideas, conduct discussions, and resolve problems.
Construction Leadership Council
The purpose of the Construction Leadership Council is to serve as a resource for the next generation of GCA of Hawaii members. The CLC is to act as a conduit for the upcoming leaders to network, to exchange ideas about work and the industry, and to further develop leadership and profession of the industry.
For more on the CLC, click here.
To improve communications and interaction with the Corps of Engineers (COE) to discuss and resolve construction and procurement issues.
Department of Accounting and General Services (DAGS)
Promote excellent relations between DAGS and GCA. Create a collegial environment and forum where DAGS officials and GCA members can discuss matters of interest in a collaborative and informal non adversarial atmosphere.
Education of members "Hawaii self-sustaining now & the future" concept. Maintain open communication between GCA and the government environmental agencies. Inform GCA members of: Current environmental protection regulations that my impact the construction industry, Best management practices (BMP) that minimize pollution to the maximum extent practical (MEP).Resolve environmental concerns affecting the construction industry.
---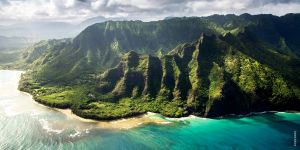 MORE ON THE GCA ENVIRONMENT COMMITTEE (from the 2021 October newsletter):
The General Contractors Association of Hawaii recognizes the privilege of building Hawaii comes with a larger responsibility—to be stewards of Hawaii's environment. The GCA's Environment Committee explores best management practices to minimize pollution to the maximum extent possible, including measures to reduce and recycle waste from construction and demolition projects.
Creating a sustainable future means keeping members informed about how current environmental protection regulations may impact the construction industry. This year, the Environment Committee has held several informative sessions for members.
Guest speakers from the Hawaii Department of Health have included: Gracelda Simmons of the Vector Control Branch of the Environmental Health Services Division; Thomas Lilekis, Asbestos-Lead Section Supervisor in the Indoor and Radiological Health Branch; and Darryl Lum, Supervisor of the Engineering Section of the Clean Water Branch. In March, Georgette Silva from West Oahu Aggregates provided an overview of the local C&D recycling and how it is used to make a wide range of usable aggregates for construction projects. In September, Quinn Vittum, co-founder of Re-use Hawaii, shared about construction and demolition waste management.
There are two remaining presentations from the Department of Health you do not want to miss: Jill Stensrud, Enforcement Manager of the Clean Air Branch on Oct. 20; and a presentation from the Solid Waste Branch on Nov. 17. 
Association Policy: Must be a General Contractors member who owns or manages their Company, who have the authority or are otherwise in a position to make independent and autonomous judgments and decisions without the need to check with higher authority (VP Finance, Controller).
Hawaiian Electric Company (HECO)
The Hawaiian Electric Company (HECO) Committee provides a forum for GCA of Hawaii members and HECO to review general procedural concerns, exchange ideas, share information on initiatives/projects, and conduct process improvement discussions.
The purpose of the GCA Human Resources Committee is to serve as a resource for the GCA of Hawaii members on employment and human resources related issues affecting the construction industry.
MORE ON THE HR COMMITTEE, CLICK HERE.
The Legislative Committee shall review and make recommendations pertaining to laws, ordinances, acts, and codes which affect the Construction Industry. It shall also take steps to initiate and promote desirable legislation and defeat harmful legislation. Increase membership participation at the legislature. Update priorities and action plans to support the GCA's Strategic Plan. Coordinate our efforts with other legislative organizations on common issues and approach the legislature as a unified group.
For more on the GCA's advocacy efforts, click here.
To strengthen communication, have interaction and promote opportunities of liaison on items of mutual interest that benefit the Navy and the GCA membership.
The Programs & Training Committee will focus on the programs and educational offerings for GCA members and others currently working in the construction industry, which will include assessing our current offerings and evaluating what additional types of programs or training the GCA should offer.
To provide an open forum where Safety and Health Professionals, associated with the GCA Hawaii, can obtain valuable information and resources necessary to meet their Company's Safety Goals; thereby increasing profitability and quality of life of its stakeholders. The committee provides assistance in areas of; employee safety and health training, safety professional development, i.e., National Certifications, regulatory updates, equipment and technological advancements, and best management practices associated with safety in construction.
For more on the GCA Safety Awards, click here.
State D.O.T - GCA Committee
The DOT-GCA Committee facilitates the development of cooperative relationships, the sharing of information and the resolution of problems by providing an open forum and established network for communication. Includes Airports, Harbors, and Highways Divisions. If deemed necessary or otherwise desirable, discussion of specific problem areas involving any one Division will be handled through subcommittees.
Subcontractors Council Committee
LIMITED TO SPECIALTY CONTRACTOR MEMBERS. To assist GCA by representing specialty contractor members, influencing policy that affects specialty contractors and promoting ethical practice in bidding, contracting and construction coordination.
---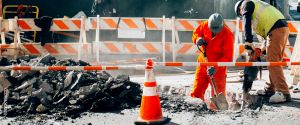 More on the Subcontractors Council from our November 2021 Newsletter:
Every major construction project in Hawaii requires teamwork between general contractors and subcontractors. They have to work hand-in-hand, from the bidding process until the day the project is successfully completed.
Charlie Stack, Vice President of FIRST ONSITE and Chair of the GCA's Subcontractors Council, and Jackson Cheng, Senior Estimator and Project Manager of HSI Mechanical, Inc., who serves as Vice-Chair of the Subcontractors Council, are working to strengthen collaborative partnerships between general contractors and subcontractors and specialty trade contractors.
"Typically, 70% of a project's bid costs are for services provided by subcontractors," Stack said, underscoring how essential subcontractors are for every major project.

TOPICS AND GOALS OF THE COUNCIL
Services of Subcontractors
Stack pointed out that many general contractors may not know the full range of services of a subcontractor and specialty trade contractor. He said the names of the subcontractor companies may not reflect their full capabilities and this may limit their business opportunities. For example, some general contractors may know that his company, FIRST ONSITE, provides water excavation work, but not be aware of the other services his company can offer. The Council is looking into solutions to address this, including adding more details about a subcontractor's licenses or qualifications on the GCA online member directory.
Creating More Networking Opportunities
He noted that dialogue between general contractors and subcontractors is key to establishing business relationships with each other, and would like to restore speed networking opportunities that were held prior to the pandemic.
Influencing Policies
Cheng, whose company serves as both a prime general contractor for smaller-scale projects as well as a subcontractor for plumbing, HVAC and sheet metal, has a bold, long-term vision for the Subcontractors Council. He would like to see a stronger emphasis on the committee's mission: "to assist GCA by representing specialty contractor members, influencing policy that affects specialty contractors and promoting ethical practice in bidding, contracting and construction coordination."
Working Together As One Industry
Cheng would like to see more policies and laws that are beneficial to all sectors of the construction industry. He believes this can begins with more interaction between the Subcontractors Council and the other GCA committees, especially the Legislative Committee.
"I would like to see us work together to promote legislation that benefits the entire construction industry — both general contractors and subcontractors because we are all in this together," Cheng said.
University of Hawaii Committee
To improve communications and interaction with the University of Hawaii to discuss and resolve construction and procurement issues.
---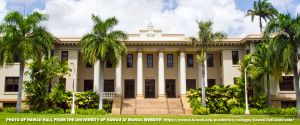 More on the UH Committee from our February 2022 Newsletter:
The GCA's University of Hawaii Committee is a bridge between the construction community and one of the largest state entities — the University of Hawaii's statewide 10-campus system.
José Luis Vásquez, Senior Estimator with Hensel Phelps, has served on the UH Committee for the past six years and this year was elevated to Co-Chair of the committee. Nelson Lee, who joined the UH as Director of Office of Project Delivery in 2017 after serving with the U.S. Army Corps of Engineers for 30 years, is the committee's non-member Co-Chair. Lee is one of a handful of UH representatives who serves on the committee.
The committee benefits both the UH and the construction industry by serving as a liaison to improve communications and create productive working relationships between the UH and general contractors, subcontractors and vendors.
There are currently about 10 committee members who identify and address a broad range of issues for continuous improvement. For example, based on feedback from the construction industry, the UH modified its construction management software to be more user-friendly and streamlined change order processes for faster approvals and payment to help companies with their cash flow.
The committee meets every other month and gives members advance notice of short- and long-term construction projects the UH has in its pipeline. Vásquez said this allows general contractors to see the big picture, plan ahead, and be prepared for the bidding process. UH construction projects, which total about $50 million per year on average, help general contractors round out their portfolios, especially during times when there are fewer private-sector projects.
The committee can also benefit the UH. Vásquez said construction industry professionals can be valuable resource partners to support the UH in the early planning stages of construction to look at the most efficient approaches and timing to build.
The Workforce Development Committee will focus on bringing students at various levels of schooling into the construction industry, and is currently working on a hands-on program for high school students during Fall Break of this year.