Ward Village® Celebrates Topping Off of Victoria Place with Support for Education and Career Pathways in Construction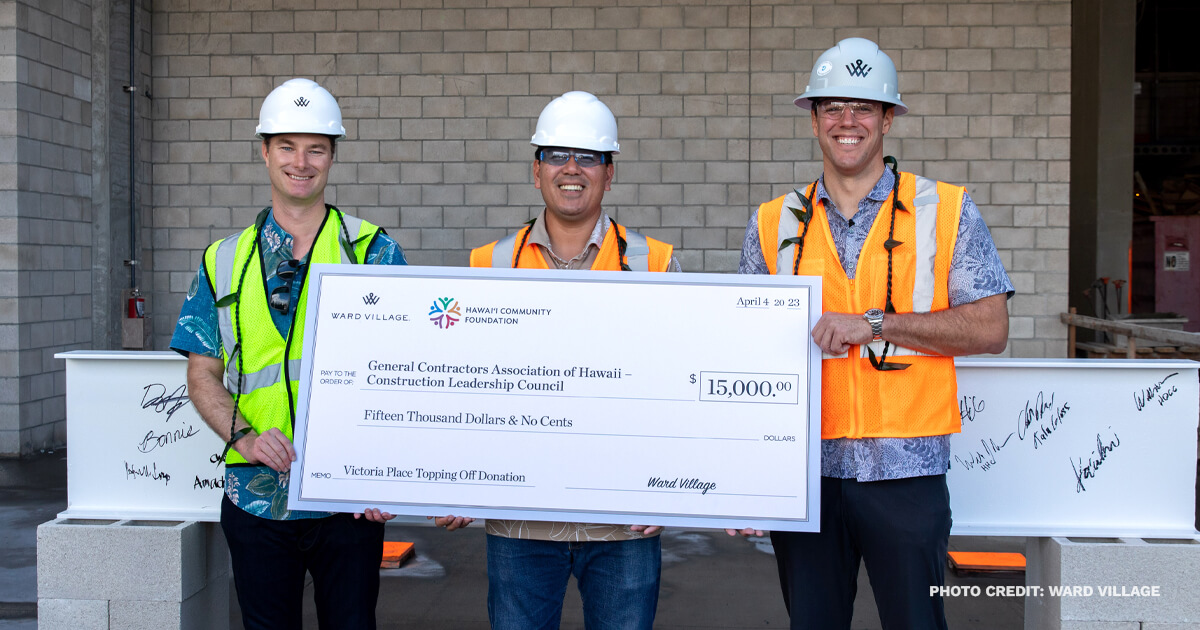 $30,000 contribution to GCA Construction Leadership Council and PRP Executive Leadership Series marks milestone of community's seventh residential development
"Investing in individuals who power the construction industry is an investment in the future of our state. We're grateful for the generous support of Ward Village, which will drive our efforts to develop Hawaiʻi's next generation of construction leaders." ​
Cheryl Walthall
Executive Director, GCA of Hawaii
"Investing in individuals who power the construction industry is an investment in the future of our state," said Cheryl Walthall, Executive Director of the General Contractors Association of Hawaii. "We're grateful for the generous support of Ward Village, which will drive our efforts to develop Hawaiʻi's next generation of construction leaders." ​
Victoria Place's construction fueled continued economic growth for Hawaiʻi, generating more than $770 million in real gross domestic product, more than $250 million in workers' earnings and nearly $50 million in state tax revenue. On average, the project created more than 1,000 jobs annually throughout its development.
The completion of Victoria Place will be the first step in activating the expansion of Victoria Ward Park Makai, which spans nearly 1.4 acres and will be thoughtfully landscaped to include retail kiosks, brackish ponds featuring aeʻo bird sculptures and meandering walkways and bike paths connecting to the Ala Moana Elevated Walkway which is also currently under construction.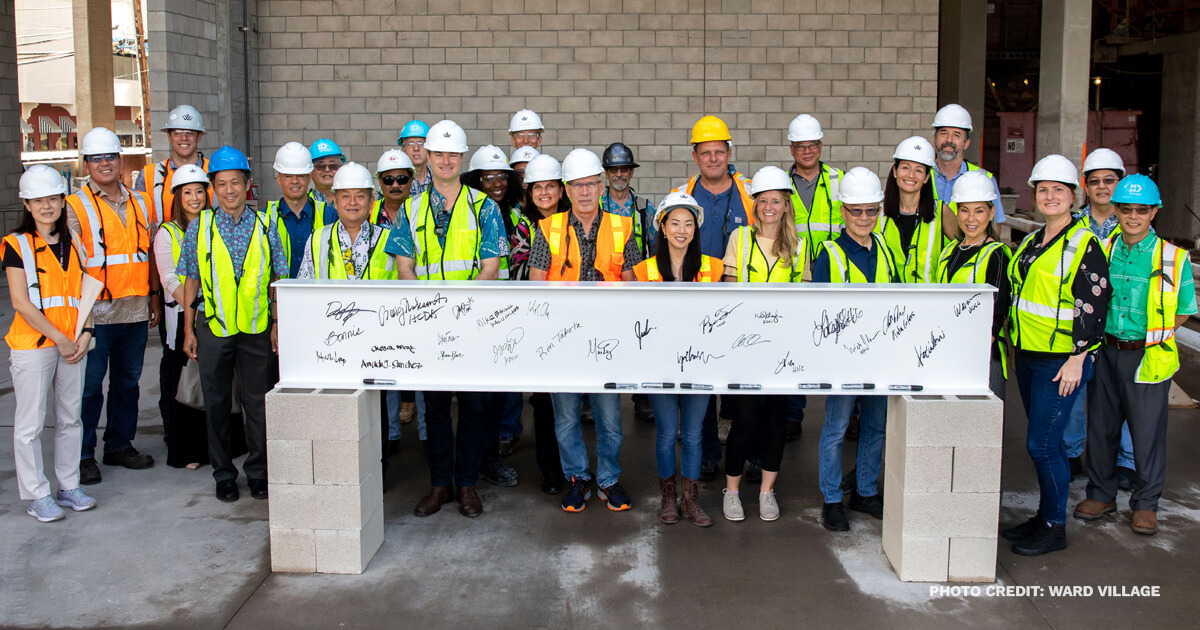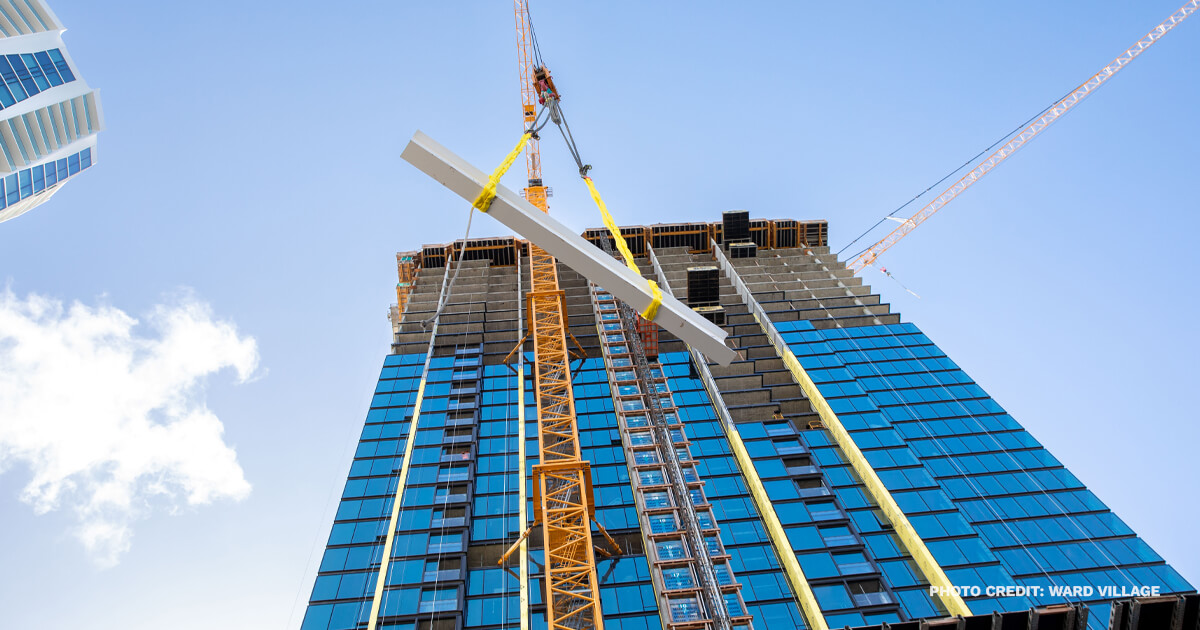 "Victoria Place is bringing new homes to Honolulu and advancing our efforts to create connectivity and expanded parks and open space for the community's benefit," said Doug Johnstone, President, Hawaiʻi, The Howard Hughes Corporation. "With this milestone, we're honored to support the development of Hawaiʻi's construction industry professionals who make Ward Village possible."
Named in honor of Victoria Ward and her vision for a connected community, Victoria Place will feature 350 one- two- and three-bedroom homes with sweeping mountain and ocean views. Residents of the building will enjoy an extensive array of amenities, including pools and spas, a palm garden, wellness and treatment rooms, a theater and barbeque grills and a cabana. Victoria Place and Victoria Ward Park Makai feature designs from world-renowned landscape architect Don Vita, Founder of VITA Planning and Landscape Design.
For more information, visit www.wardvillage.com. ​
For more information on the Construction Leadership Council (CLC): click here
About Ward Village®
Ward Village is a 60-acre master planned community by The Howard Hughes Corporation® in the heart of Honolulu, located between downtown and Waikīkī. Honoring the distinct history of its land, Ward Village is at the forefront of sustainable community development—integrating striking architecture, culture and arts, and public open space. At full buildout, the community will include thousands of homes and approximately one million square feet of unique retail in what Architectural Digest named "Best Planned Community in the United States."
As a result of strong demand for new housing in urban Honolulu, Ward Village is quickly approaching sellout of its first six mixed-use residential towers—Waiea®, Anaha®, Ae'o®, Ke Kilohana®, ʻAʻaliʻi® and Kō'ula® transforming the popular shopping and dining district into a thriving urban neighborhood that offers ocean views and open space, including its newest outdoor gathering place, Victoria Ward Park. New residential buildings in development or under construction include Victoria Place® and Kalae®. Since launching public sales in July 2021, The Park Ward Village has become the fastest-selling market tower in the history of Ward Village. Approved by the Hawaiʻi Community Development Authority (HCDA) in 2021, The Park Ward Village and Ulana Ward Village will be the newest mixed-use developments to join the neighborhood.
As a LEED-ND Platinum-certified master planned community, Ward Village demonstrates its commitment to responsible, mixed-use development by investing in public benefits and amenities for Honolulu's urban community. For more information, visit http://www.wardvillage.com/.

About The Howard Hughes Corporation®
The Howard Hughes Corporation owns, manages, and develops commercial, residential, and mixed-use real estate throughout the U.S. Its award-winning assets include the country's preeminent portfolio of master planned communities, as well as operating properties and development opportunities including: the Seaport in New York City; Downtown Columbia® in Columbia, Maryland; The Woodlands®, Bridgeland®, and The Woodlands Hills® in the Greater Houston, Texas area; Summerlin® in Las Vegas; Ward Village® in Honolulu, Hawaiʻi; and Teravalis™ in the Greater Phoenix, Arizona area. The Howard Hughes Corporation's portfolio is strategically positioned to meet and accelerate development based on market demand, resulting in one of the strongest real estate platforms in the country. Dedicated to innovative placemaking, the company is recognized for its ongoing commitment to design excellence and to the cultural life of its communities. The Howard Hughes Corporation is traded on the New York Stock Exchange as HHC. For additional information visit www.howardhughes.com.

 Safe Harbor Statement
Statements made in this press release that are not historical facts, including statements accompanied by words such as "will," "believe," "expect," "enables," "realize," "plan," "intend," "assume," "transform" and other words of similar expression, are forward-looking statements within the meaning of the Private Securities Litigation Reform Act of 1995. These statements are based on management's expectations, estimates, assumptions, and projections as of the date of this release and are not guarantees of future performance. Actual results may differ materially from those expressed or implied in these statements. Factors that could cause actual results to differ materially are set forth as risk factors in The Howard Hughes Corporation's filings with the Securities and Exchange Commission, including its Quarterly and Annual Reports. The Howard Hughes Corporation cautions you not to place undue reliance on the forward-looking statements contained in this release. The Howard Hughes Corporation does not undertake any obligation to publicly update or revise any forward-looking statements to reflect future events, information or circumstances that arise after the date of this release.