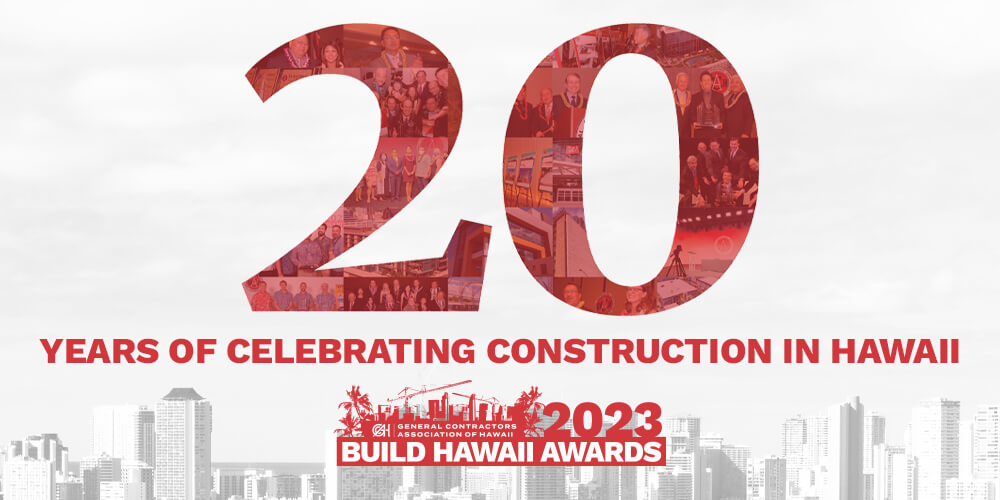 20 years of the Build Hawaii Awards: It All Started with a "Yes"
The Build Hawaii Awards began 20 years ago as a way to help general contractors gain more visibility for their projects and to ensure they could more effectively bid on new projects.
It started as the brainchild of Lance Wilhelm, who was serving as president of the General Contractors Association of Hawaii in 2003.  In this role, he was invited to recognition events and to serve as a judge for the awards programs of other organizations, such as the American Institute of Architects (AIA) Honolulu Chapter and NAIOP, the Commercial Real Estate Development Association Hawaii Chapter.
"The projects being recognized were the work of our GCA members," Wilhelm said. "We did the actual building!"
Credit Where Credit is Due
Wilhelm's desire to give credit where credit is due motivated him to start the GCA's own recognition program. He noted that the Associated General Contractors of America (AGC), the national trade association of which GCA is a chapter, had a program, but felt the projects in Hawaii would not be able to compete with the scope and budget of the national projects entered in the AGC's recognition program just yet.
Wilhelm also saw how an awards program would help GCA members compete more effectively when bidding for projects.
"In the early 2000s, the marketplace was changing. Design-build was beginning to become more popular," Wilhelm explained. "Bids were being awarded for 'best value' and were not just based on low price."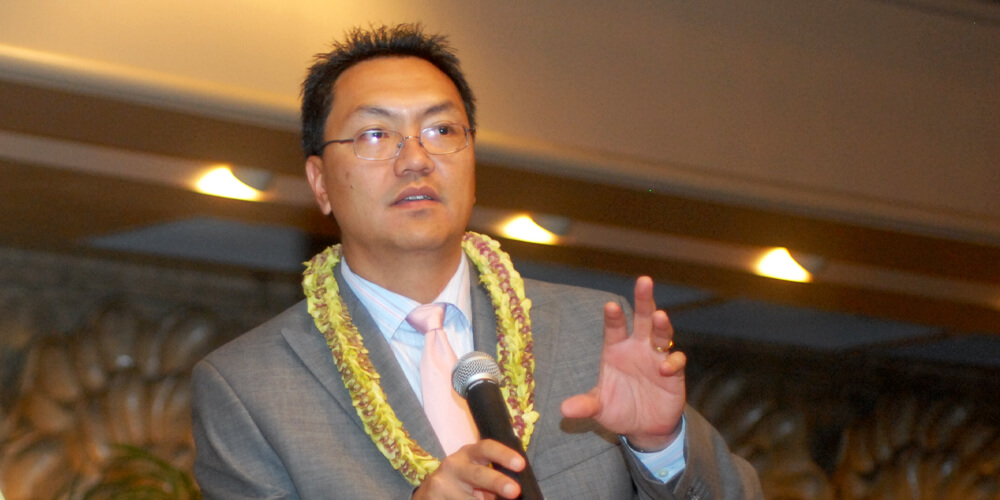 Lance Wilhelm at the 2008 Build Hawaii Awards event.
"The projects being recognized were the work of our GCA members," Wilhelm said. "We did the actual building!"
- Lance Wilhlem

Promoting a Company's Value
With price no longer the only criterion for awarding bids, proposal writing, especially the ability of companies to explain in writing how their company could offer more value, became critically important. Wilhelm saw how preparing a company's award entry was similar to preparing a bid proposal, providing another good reason for starting an awards program for GCA members.
On a side note, Wilhelm began to offer proposal writing classes for GCA members to help level the playing field, especially for those small- to medium-sized firms that may not have dedicated staff for proposal writing and marketing.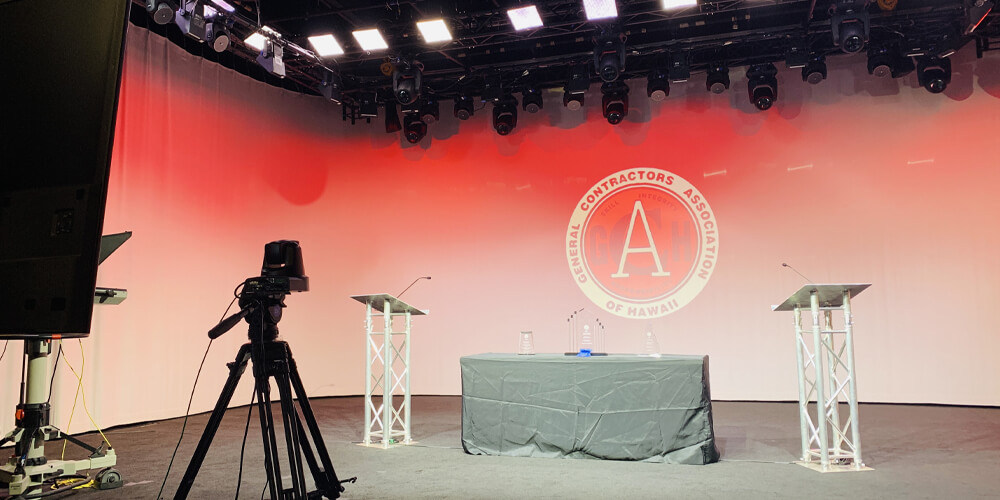 The Build Hawaii Awards went virtual in 2020 and 2021 due to the COVID-19 pandemic.
Resistance to Build Hawaii Awards
Despite all of these good reasons to initiate the GCA's Build Hawaii Awards program, Wilhelm said not everyone shared the same optimism at first. Johnny Higa, who was serving as GCA's executive director at the time, and Michael Inouye, the first Build Hawaii Awards Committee chair, liked the idea of an awards program but felt more time was needed to think through all of the different aspects of the program.
Wilhelm recalls the details vividly. "They invited me to Chili's in Waikele for lunch and their intent was to convince me not to do it. They said there were too many details to consider and suggested pushing the awards program to the following year," he said. "But I was not having it."
Wilhelm reasoned with them that he was not looking at the first year of the awards program, but the tenth year. It was important to get the awards program off the ground, even if it was not perfect the first year, and allow it to improve over time.
The First Build Hawaii Awards Ceremony
In that first year, GCA board members were required to submit two entries in the awards program to ensure there would be enough entries to judge — a challenge that no longer exists today, 20 years later.
Another challenge in that first year: the actual, physical awards. Wilhelm wanted them to be special and memorable. He initially planned to have handblown glass awards for the occasion, but when he went to visit the glass blower, only five had been completed and they needed 20 awards. And the five that were completed all looked different, were hideous, and "weighed about 1,000 pounds," Wilhelm recalled. He ended up scrapping that glass awards idea and went with a more traditional award.
Wilhelm also insisted the first awards ceremony be a formal coat and tie event. "I wanted to give foremen, who pour concrete and nail wood together most days, a reason to dress up and be recognized on stage."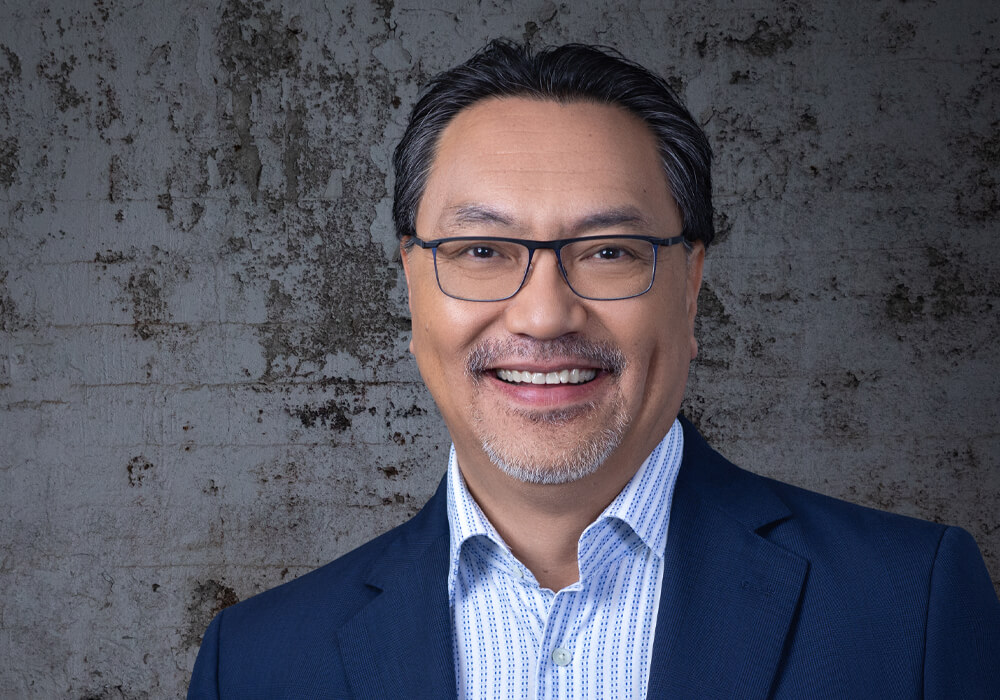 Mahalo to Lance Wilhelm
As GCA members celebrate the 20th anniversary of the Build Hawaii Awards this year, we can thank Lance Wilhelm for his commitment to equity and unwavering support for the construction industry. He offers valuable advice that applies to many new ideas and endeavors to make exciting things happen:
"'No' is always the easy answer. Say, 'yes' even if it is not easy."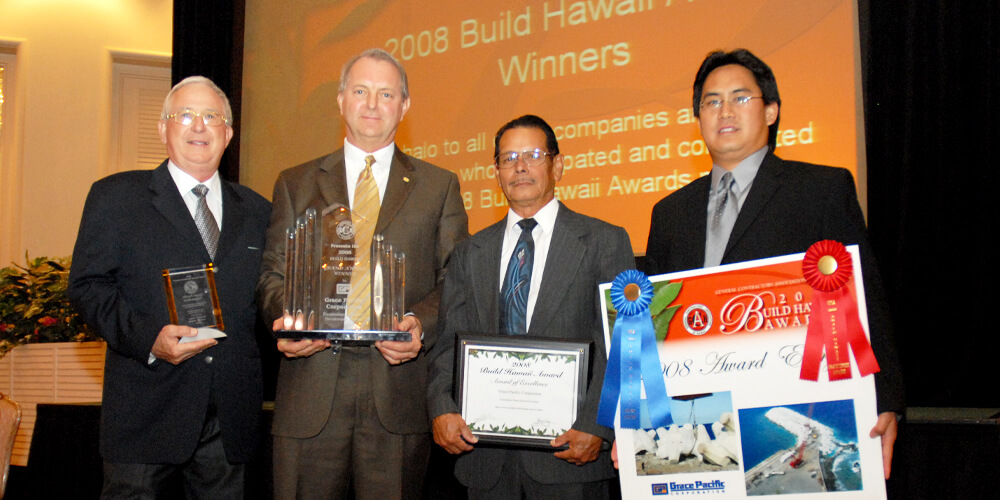 A Prestigious List
Introduced in 2008, the coveted Grand Award is the year's best of the best project, receiving the most votes from the judges among all the Award of Excellence winners. Here's a complete list of winners since its inception.
2008: Kaumalapau Harbor Breakwater Repair, Contract No. W9128A-04—0008 (pictured above)
Grace Pacific Corporation
Specialty Construction – More than $3 Million
---
2009: Earthquake Damage Repair Alakahi Stream Intake
Royal Contracting Co., Ltd.
Specialty Construction – More than $3 Million
---
2010: The Ritz-Carlton Club & Residences, Kapalua Bay
Nordic PCL Construction, Inc.
Building Construction – More than $100 Million
---
2011: Repair Wharf S-1
Healy Tibbitts Builders, Inc.
Design-Build/Design-Assist Construction - $1 - $15 Million
---
2012: Pacific Fleet Submarine Drive-In Magnetic Silencing Facility (MSF)
Watts-Healy Tibbitts A JV
Federal Construction - More than $12 Million
---
2013: Critical Repair of Kalaupapa Dock Structures
Healy Tibbitts Builders, Inc.
Federal Construction - Less than $30 Million
---
2014: Information Technology Center, University of Hawaii
dck pacific construction LLC
Building Construction - More than $40 million
---
2015: ONE Ala Moana
Albert C. Kobayashi, Inc.
Design-Build/Design-Assist Construction - More than $30 million
---
2016: Walgreens Flagship at Keeaumoku Street
dck pacific construction LLC
Design-Build/Design-Assist Construction - $10 - $30 million
---
2017: Kapiolani Medical Center Diamond Head Tower
Layton Construction/dck JV
Building Construction - More than $25 million
---
2018: Park Lane Ala Moana 
Albert C. Kobayashi, Inc.
Design-Build/Design-Assist Construction - More than $10 million
---
2019: Kailua Regional Wastewater Treatment Plant Tunnel Influent Pump Station and Headworks Facility and Kaneohe/Kailua Tunnel Influent Facility
Hensel Phelps
Municipal and Utilities Construction - More than $10 million
---
2020: Repair Damage to U.S.S. Arizona Memorial & Floating Dock
Sea Engineering, Inc.
Subcontractor - More than $1 million
---
2021: Queen Emma Building Renovation
Swinerton Builders
Renovation/Remodeling - $20 million and above
---
2022: Kaiser Permanente Leeward Clinic Medical Office Building
Hensel Phelps Construction Company
Building Construction - $25 million and under $100 million